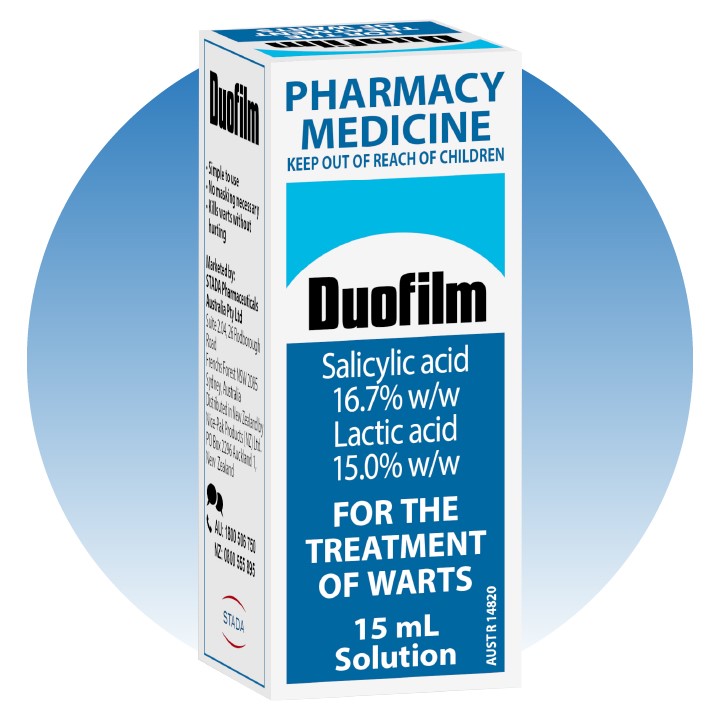 Duofilm is a topical medicine used for the treatment of warts.
Duofilm is a drug for the topical treatment for warts. It contains 16,7% salicylic acid and 15% lactic acid. The active ingredient salicylic acid, Duofilm acts on the surface layer of the skin to promote shedding. The other active ingredient, lactic acid, helps reduce skin thickening.

Therapeutic indications
Duofilm is a medication for the topical treatment of warts. The 15 ml glass bottle, with brush applicator, contains the active ingredients salicylic acid (16.7 %) and lactic acid (15 %). Applied topically, salicylic acid acts on the surface layer of the skin to promote shedding (desquamation). Lactic acid suppresses the wart skin thickening process. The elastic colloidal film provides a viscous vehicle for accurate application and the penetration of active ingredients into warts. The lactic acid also forms a film that helps keep the skin moisturised, facilitating the elimination of warts.
Treatment Duration
The treatment should be repeated every day until the wart has completely disappeared, and normal skin texture has been restored.
In the case of warts, a visible improvement should be observed in 1 to 2 weeks, but the maximum effect is generally seen after 4 to 8 weeks. In any case, it is recommended you consult your doctor or pharmacist if the wart persists beyond 12 weeks of treatment
Warnings
Duofilm should not be applied to large areas, the face or the anogenital area.
If the product comes into contact with mucous membranes or the eyes, rinse immediately and abundantly with water, remove any colloidal film that has formed, and continue rinsing with water for at least a 15 minutes.
Duofilm is not recommended for warts that cover an area of the body more than 5cm2 (approximately the size of a postage stamp)
Do not administer to children under the age of 2 years. Consult with your doctor before using the medication on children between the ages of 2 and 12. Duofilm should only be used when clearly needed, and under direct medical supervision. Application on children must be fully supervised by an adult.
The medication is not recommended in cases of diabetes, cardiovascular disorders, pregnancy or breastfeeding.
Duofilm is a medicine containing salicylic acid and lactic acid. Do not use Duofilm on the face or anogenital regions. Do not use in children under two years of age. Talk to your doctor before using this medicine in children aged 2 to 12 years. Consult your pharmacist. Read the instructions carefully. If symptoms persist, see your doctor.